Grooming & Self-Serve Dog Wash
Grooming
It's more than just a haircut! Our on-staff groomer takes special pride in making your pet look their best. Whether it's for medical reasons or cosmetic appearance, you'll find our grooming services top notch. Some of our services include a complete brush-out, haircut, bath, blow dry, final trim, nail trim, ear cleaning, and more...from head to toe and tip to tail!
Required Vaccinations:
---
Self-Serve Dog Wash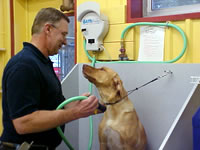 If you enjoy bathing your dog yourself but don't have the place try our Self Serve Dog Wash.
The Dog Wash is open Monday thru Friday, 8 am to 4:30 pm and Saturday 8 am to 11:00 am
Required Vaccinations:
---
Call Four Paws Lodge at 320-762-0327 for more information.